Dave Knipfer Reflects on His First Year as Owner
Welcome to the first edition of the Mapping Specialists online newsletter, the next step in the evolution of our company newsletter. We are very pleased to be launching this new form of communication with you, our clients. While many of you enjoyed our printed newsletters in the past, this digitally delivered newsletter will allow us to keep all of you informed of important developments in a timely manner. And we save a few trees in the process. So, welcome.
What a challenge all of us face in these difficult economic times. I purchased Mapping Specialists, Ltd. (MSL) on January 5, 2009, right in the middle of the national financial crisis. I have been with the company since October of 1986, and consequently I can relate to the changes and challenges all of you are facing. Never in my wildest dreams did I picture a year like the one we just experienced. Like many companies, we have downsized and become "leaner and meaner," as they say. Through this period we have focused on services that our clients need the most: quality cartography, editorial services, research, and database development. Additionally, we have and are developing services that we see our clients needing as the economy recovers–web development, Adobe Flash and Flex programming, animations, etc. The bottom line is, I'm happy to report that we are still here and plan to keep serving you well into the future.
If there is a bright spot in all of this turmoil, I believe it is opportunity. As the economy recovers, opportunities will present themselves. I wish I had a crystal ball and could tell all of you what those opportunities are going to be, but of course I don't. I do know that the staff here at MSL is ready to help you turn your opportunities into realities and move all of our companies forward.
I wish all of you the best of luck as this year continues to unfold.
We value your feedback, so please let us know if you have any comments about this newsletter or our company.
– Dave Knipfer, President/Owner, Mapping Specialists, Ltd.
The Ultimate United States Road Atlas
Explore America with The Ultimate United States Road Atlas! New from Hema North America, this 224-page atlas offers colorful, easy-to-read maps with seamless coverage coast-to-coast in a convenient, spiral bound format protected by a durable cover. Presenting complete, updated road information as well as thousands of points of interest such as parks, museums, and historic sites, this atlas is the perfect companion for travels near or far. Detailed shaded relief for the entire country, plus city inset maps and comprehensive, small-scale mapping of the Northeast Corridor, help you find your way. And with complete latitude and longitude on every page, it's the perfect complement to your GPS navigator.
The Ultimate United States Road Atlas also helps make your trip planning fun and easy. A 24-page Traveler's Guide includes information and maps of your favorite National Parks, as well as top picks for outdoor adventures, natural wonders, family fun, entertainment, culture, discovery, and unique examples of Americana—all highlighted on the atlas pages. And, unique among major American road atlases, the top of each map page describes several easy-to-find points of interest, featured on the page below. This beautiful atlas makes an excellent gift for travelers and anyone who loves maps.
Hema North America is a division of Hema Maps, a leading map producer and distributor in Australia. To create The Ultimate United States Road Atlas, Hema employed Mapping Specialists. We spent two years developing an entirely new road atlas that sets a high standard for comprehensiveness, data quality, and clarity.
Electronic Graphics Capabilities
For 26 years, Mapping Specialists, Ltd. has been at the forefront of providing the cartographic and graphic services that our clients require. Electronic publishing advances at a rate that amazes us. What was once thought to be the stuff of science fiction continues to appear at trade shows and on Web sites almost daily. Adaptation is the key to keeping up.
We have always made our best effort to adapt to the publishing market's ever-changing demands. At one of our management team's annual strategic planning meetings in the late 1990s, we decided to expand the diversity of our services and capabilities. Our managers assumed that a major technology shift would occur and that our client mix would change significantly. The result was that several new markets emerged as avenues to explore. This not only limited the risk from relying too heavily on one or two industry sectors, but also helped broaden our menu of services to make ourselves available to more companies. Within just a few short years, we offered large format printing, print-on-demand services, and finishing, two lines of retail products, and we created our GIS department.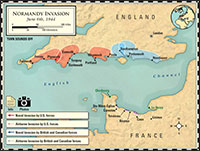 That process also set the stage for continued upgrades and additional services for our existing markets. As computer hardware and software advanced, we kept pace. One Adobe representative told us at a conference that cartographers always seem to be the ones who push the software and hardware to its limits. The latest versions of the Adobe Creative Suite and other software allow us to create maps, graphics, and interactive illustrations that we once could only dream of assembling. We have some samples of some of those in our Web portfolio. Not only are there examples of static maps and illustrations that we have created, there are also several electronic graphics. Animated and interactive maps and illustrations are well within the scope of our core services. In addition to static maps and graphics, we have been creating electronic illustrations for other subject areas such as the sciences and mathematics.
Our team has also provided electronic and Web interfaces for a number of our clients. These include kid-friendly interfaces for elementary students as well as more sophisticated platforms for the high school and college markets. Please contact us to see additional examples of these. That soon led to the development of a series of educational games geared toward fourth through sixth graders which are posted on our Web site.
As the publishing world changes and evolves, Mapping Specialists, Ltd. has also continued to adjust as necessary to provide the best in quality, service, and technology to meet our clients' high standards.
Editorial Director, Tim Carter, Retires
From Aachen to Toad Suck, Tim Carter has probably mapped it. After more than 30 years in map publishing, Tim will retire on May 31, 2010. He has been Editorial Director of Mapping Specialists for the last 14 years.
Tim, a Michigan State University graduate, cut his teeth as a classroom teacher. He began his career in cartography with the National Geographic Society as a research cartographer compiling place names for the Atlas of the World, 5th edition. He and Tom Gray were the first to complete the transliteration of Chinese place names from Wade-Giles to pinyin for a U.S. publication. His byline appeared on more than 10 supplement insert maps for National Geographic and on the masthead of the magazine. The role of map content editor for the Historical Atlas of the United States was a crowning achievement.
Tim also held management positions with Rand McNally and H.M. Gousha. At Gousha he was Editorial Director for the USA Today Golf Atlas. Golf, until recent years, has been Tim's favorite pastime.
After the demise of Gousha, Mapping Specialists offered Tim the position of Editorial Director. This afforded an opportunity to return to his Great Lakes roots. At MSL, Tim led the editorial efforts for dozens of clients. This has been very challenging since no two clients have the same specifications or content, but each expects a high level of accuracy. A great challenge indeed!
Tim and his bride of 39 years, Denise, have no immediate plans other than walking their youngest daughter, Elizabeth, down the aisle in June. They have two other adult children, Curt and Heather. Tim will remain rather busy as an alderman and president of the city council in Stoughton, where they live.
The spring veggies are in, the weeds need tending, and Tim and Denise look forward to a bountiful harvest. And don't be surprised to see both hailing passersby from the lantern room of a Great Lakes lighthouse. Go Green!
Mapping Specialists' Maps in Prize-Winning Book
As you probably know, MSL staff work on a wide variety of cartographic projects—GIS, textbooks, highway maps, and everything in between. We've also been pleased over the years to create maps for a number of trade books issued by major publishers. When our clients gain special recognition for works that we helped them create, we're even happier. But we didn't expect what happened with The First Tycoon: The Epic Life of Cornelius Vanderbilt, by T. J. Stiles, published in hardcover by Alfred Knopf, a unit of Random House, in early 2009.
The book, a detailed biography of Cornelius Vanderbilt—who earned a vast fortune with steamship lines and railroads—won the National Book Award for nonfiction last autumn. Then in April the book also won the Pulitzer Prize for biography. The First Tycoon has received glowing reviews in major publications across the country, and is now available in paperback from Vintage Books.
MSL created six black and white maps to supplement the text, using content specifications provided by the author, and edited copy accompanied by map size and style guidelines from the publisher. The maps range in scale from a street map of Manhattan showing growth of the city over the decades during the 1800s, to a map of North and Central America depicting Vanderbilt's steamship lines. Our staff created the maps using Adobe Illustrator and Photoshop software, which we use for most of our production work.
The First Tycoon is one of several major books issued recently that have contained MSL maps. For example, The Routes of Man: How Roads Are Changing the World and the Way We Live Today, by Ted Conway, is another notable book that Random House enlisted our assistance to produce. We are, of course, always happy to see authors reach print with their work, and enjoy working with publishers to ensure timely, cost-effective production. But it's particularly nice to see authors and publishers recognized for their efforts.
/wp-content/uploads/MSL-Logo-Color-Web.svg
0
0
Mapping Specialists Limited
/wp-content/uploads/MSL-Logo-Color-Web.svg
Mapping Specialists Limited
2010-05-14 19:26:32
2013-08-14 13:27:59
Newsletter May 2010